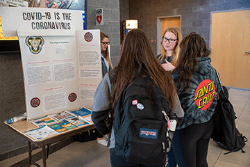 09/29/2020 
The Wellness Wednesday series is a constant at SUNY Cortland, where student wellbeing is a priority. The informational events are continuing this semester, only now they are taking on a virtual format.
While preparing for the Fall 2020 semester, Lauren Scagnelli, the campus' health educator, found a way to deliver this semester's series to students who can't gather in person for informational, health-related activities due to the COVID-19 pandemic.
"I did not want to have another WebEx presentation because they [students] are on it a lot for some, or all, of their classes," said Scagnelli, who works in the Conley Counseling and Wellness Services, which is located in Van Hoesen Hall and encompasses the Counseling Center and Health Promotion.
So, Scagnelli decided to create the new "Take 10 for You" podcast with the help of her co-host Marissa Whitaker, a substance abuse prevention and education associate in the Conley Counseling and Wellness Services.
The program airs on Soundcloud each Wednesday. It is hosted by Whitaker and Scagnelli, but guests are invited for specific episodes. Links to the podcast can be found on the SUNY Cortland Health Promotion's Twitter and the podcast transcript can be found on the Wellness Wednesday webpage.
Additionally, podcasts will remain posted for the entire semester so students can listen to them at any time.
This fall, the Wellness Wednesday events thus far have discussed staying healthy during the COVID-19 pandemic. However, future topics will include reducing stress, safely engaging in sexual activity, how e-cigarettes can make COVID-19 worse, and how to support one's immune system through nutrition.
"The change in format allows students to listen at their own convenience," Whitaker said. "Which means potentially reaching students who we may not have, if they couldn't attend an in-person event."
Each episode is only 10 minutes in duration. This is a drastic change compared to the previous hour-long Wellness Wednesday series events  held in person at either the Corey Union Function Room or Exhibition Lounge.
The "Take 10 for You" format gives Cortland students "the message in a quick and concise manner," Scagnelli said.
Generally, the goal of Wellness Wednesday events is to teach students about their own health and wellness, Whitaker said.
But for the new podcasts, Whitaker said her goal is to "stay connected with students, in a time when many of us are struggling with feeling less connected than ever before."
Prepared by Communications Office writing intern Nicholas Boyer
---