MANCHESTER—The former medical doctor for British Cycling and Team Sky has told a tribunal he had not read the crucial guidance on anti-doping rules when he ordered a prohibited substance.
Dr Richard Freeman admits ordering sachets of Testogel to the Velodrome in Manchester in May 2011 but insists he was bullied into obtaining it for coach Shane Sutton to help with his erectile dysfunction.
Today Dr Freeman continued his evidence at the Medical Practitioners' Tribunal Service where he denied Testogel was ordered for an athlete and said the suggestion was "offensive". He also claimed for the first time, after giving three separate statements, that he had destroyed the package at the time.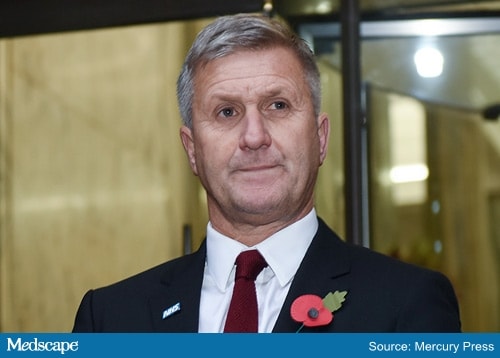 Record Keeping
Previously Dr Freeman had already admitted lying in the aftermath, getting an employee of Fit For Sport to say the drug had been sent in error, and a series of poor record keeping.
Earlier in the week he claimed Mr Sutton swore him to secrecy about his erectile dysfunction. He says he got him Viagra and Cialis to deal with the condition and claimed he wrote him a prescription  which his personal assistant would use to pick up packages from Asda or Boots.
Representing the General Medical Council, Simon Jackson QC asked Dr Freeman how this squared with his claim that Mr Sutton was secretive about it.
Dr Freeman said the details of the prescription would only be known by the pharmacist and it would be placed in a sealed bag. 
He was then asked about how records would be kept on this.
He said: "I would expect them to keep them for a long time and for them to be easily accessible."
Mr Jackson then asked about the order of Testogel and why this procedure was not applied, saying: "That might be a reason for not writing a prescription for which there would be a record showing you had signed it and that had Mr Sutton's name on it."
Dr Freeman replied: "It is not the reason I would have considered but I can see the point."
Anti-Doping
He was quizzed about his knowledge of anti-doping legislation, and whether he should have known that possession of Testogel was a breach of the rules.
Mr Jackson asked: "He [Shane Sutton] would fall under the WADA code as an athlete support person?"
Dr Freeman responded: "I wasn't particularly proficient in the code."
Mr Jackson said it had been in place since 2009 and Dr Freeman said he believed that was the case and claimed he had "not read the small print about rider's health".
The GMC representative then asked:  "You must have realised that on the face of it you're not supposed to be in possession of testosterone unless … do you accept that?"
The doctor said: "I fully accept testosterone is a banned drug for athletes, at the time I was thinking of Mr Sutton as a patient not as a rider or ex-rider."
Knowledge
Mr Jackson then took exception to his claim of not knowing the rules.
He said: "You talk about this being small print Dr Freeman. It's really a headline.  It's article two of the WADA code – anti-doping regulations. It's not small print is it? It's the whole premise of what the code's about?"
Dr Freeman replied: "Exactly Mr Jackson."
Mr Jackson said: "This isn't small print is it? This is headline of what you do not do."
Dr Freeman said: "I am confused I thought I had answered that."
New Information
Later in the day Dr Freeman claimed he had destroyed the product after he was ordered to get it off the premises by psychiatrist Steve Peters who discovered the package when it arrived, but the GMC lawyer took exception to this new line.
Mr Jackson asked: "Do you accept this is the first time you have told us you destroyed it?"
Dr Freeman replied: "I have made two witness statements, I would have to check."
He was then asked: "I am going to suggest you never said in three witness statements you destroyed it, why is that?"
Dr Freeman said: "I do not have an answer for that."
Option Three 'Offensive'
He was then pressed on what his options were when the product arrived at the Velodrome.
The first, Mr Jackson suggested, was to ring a courier and get it returned or to drive to Fitness for Sport and drop it off himself.
Dr Freeman said he did not think of that.
It was then suggested he could have given the product to Shane Sutton after placating Dr Peters.
The doctor said he wanted to "stand up and try and get back control" so opted not to do this.
Mr Jackson then said: "The third option is keep it at your home or elsewhere for it to be used or to be administered to an athlete and nobody would know you have got a supply, haven't you?"
Dr Freeman: "I know I should answer questions directly but emotions will come into it.
"Option three I find offensive in every respect. I believe in the WADA code. I introduced anti-doping to the FA, in European Golf, in football at Bolton Wonderers, to active riders at British Cycling, I have such strong views of sport and drug abuse, I find option three just offensive."
Mr Jackson: "That's the GMC's case, you acquired it for a rider, that is the GMC's case."
Dr Freeman: "I am well aware of that."
Earlier in the tribunal, which was adjourned from December last year, Shane Sutton denied any knowledge of the product being ordered and branded Dr Freeman a liar before storming out.
The hearing, before chair Neil Dalton, continues.
Chris Jaffray is a freelance journalist experienced in covering MPTS hearings.