TRUMP, on the coronavirus: "We're rounding the turn." — interview aired Sunday on Fox News Channel.
TRUMP: "We're rounding the corner — with or without a vaccine." — interview on "Fox & Friends" on Sept. 21.
TRUMP, asked if the virus will "go away" if there isn't a vaccine immediately available: "Sure, with time it goes away. And you'll develop — you'll develop herd-like, a herd mentality. It's going to be — it's going to be herd-developed, and that's going to happen." — ABC News town hall on Sept. 15.
THE FACTS: Trump appeared to promote a "herd immunity" approach to the virus if a vaccine isn't immediately available that would require millions more people to get infected and significantly higher deaths.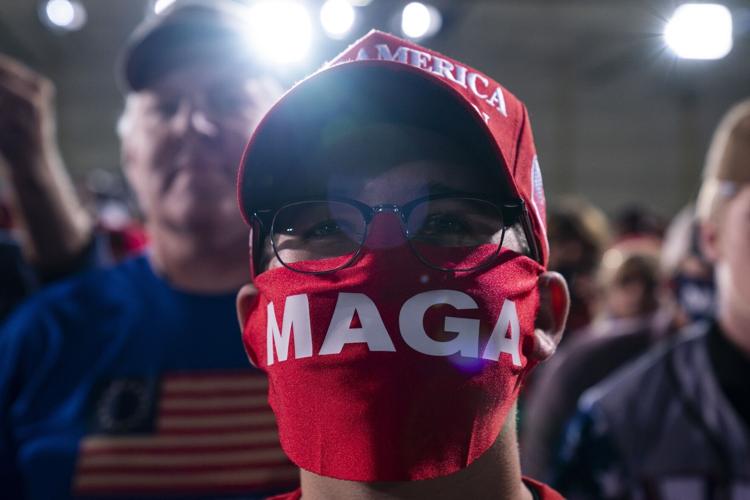 Public health officials say that to reach herd immunity, which is when the virus can no longer spread easily, at least 70% of the population, or 200 million people, would need to develop antibodies. The U.S. currently has 7 million COVID-19 cases.
"Developing herd immunity doesn't just take time, it works by infecting over a hundred million and killing hundreds of thousands," University of Michigan professor Justin Wolfers tweeted. "He's describing a massacre."
Developing herd immunity doesn't just take time, it works by infecting over a hundred million and killing hundreds of thousands. He's describing a massacre. https://t.co/T5yXoro7cS

— Justin Wolfers (@JustinWolfers) September 16, 2020
Fauci last month called a herd immunity approach "totally unacceptable" because "a lot of people are going to die."
He also disagrees the virus is "rounding the corner," saying Americans should not "underestimate" the pandemic and they will "need to hunker down and get through this fall and winter because it's not going to be easy." Fauci and other health experts such as Dr. Robert Redfield, director of the Centers for Disease Control and Prevention, have warned of a potentially bad fall because of dual threats of the coronavirus and the flu season.
Dr. Scott Gottlieb, a former head of the Food and Drug Administration under Trump, on Sunday also pointed to potential warning signs. "As reported Covid cases continue to rise around the U.S., the number of Covid hospitalizations – which is an important, objective measure of total disease burden – have stopped their decline, and may be starting to increase again," he tweeted.
---
TRUMP, speaking hours before the U.S. hit a milestone of 200,000 virus deaths: "It affects elderly people, elderly people with heart problems, and other problems. If they have other problems, that's what it really affects. … In some states thousands of people — nobody young — below the age of 18, like nobody — they have a strong immune system — who knows? … It affects virtually nobody." — rally in Ohio on Sept. 21.
THE FACTS: No, it's affected quite a few.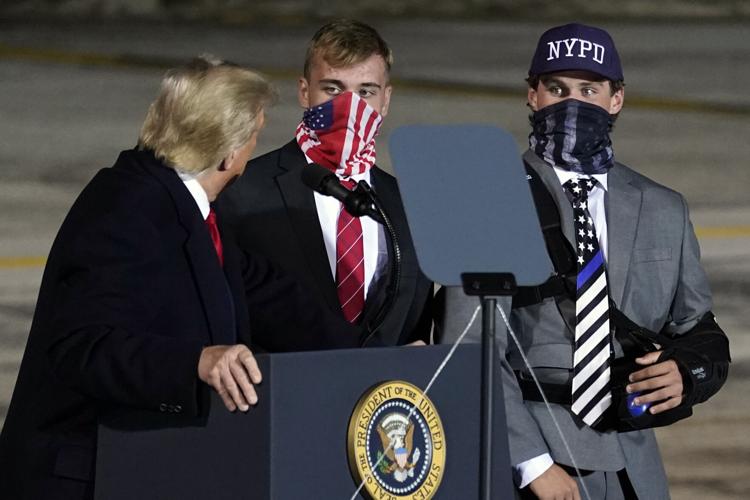 In all, the U.S. death toll from the coronavirus topped 200,000 Tuesday, by far the highest in the world, hitting the once-unimaginable threshold six weeks before an election that is certain to be a referendum on his handling of the crisis. The number of dead is equivalent to a 9/11 attack every day for 67 days. It is roughly equal to the population of Salt Lake City or Huntsville, Alabama.
Kids certainly aren't immune and Trump ignores racial disparities among those who get infected. He is also brazenly contradicting what he privately told journalist Bob Woodward.
"Now it's turning out it's not just old people, Bob," he told Woodward in March. "It's plenty of young people."
Although it's true that children are less likely than adults to develop COVID-19, the CDC has nevertheless counted more than 419,000 infections in Americans younger than 18, or about 8.5% of all cases. Racial disparities in the U.S. outbreak also extend to children, with Hispanic and Black children with COVID-19 more likely to be hospitalized than white kids.
"It isn't just the elderly," Dr. Anthony Fauci, the government's top infectious diseases expert, told CNN on Tuesday. He noted that a person of any age with underlying health conditions is at significantly higher risk of serious effects if they get COVID-19.
The total number of kids who have been infected but not confirmed is almost certainly far higher than the CDC figures, experts say, because those with mild or no symptoms are less likely to get tested. Kids also can spread disease without showing symptoms themselves.
The CDC in May also warned doctors to be on the lookout for a rare but life-threatening inflammatory reaction in some children who've had the coronavirus. The condition had been reported in more than 100 children in New York, and in some kids in several other states and in Europe, with some deaths.