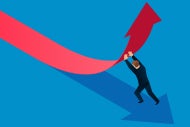 As financial news goes, the August announcement by Lyra, a California-based behavioral health benefits provider startup, that it had raised more than $110 million in funding barely caused a ripple. The deal took Lyra's total funding to $292 million and its valuation to more than $1 billion, the company reported.
The larger story was what Lyra plans to do with its growing financial backing. The company, which provides mental health benefits to more than 1.5 million U.S. employees and dependents, said it will use the funding to invest further in technology-enabled services, to partner with more customers and to expand and diversify its provider network.
The news was also significant in a broader financial context in the digital health sector. It helped push the number of third-quarter health care financing megarounds — funding rounds of $100 million or more — to the highest level in nearly three years. That this is happening during a pandemic and a period of great economic uncertainty illustrates the growing faith that venture capital funds and other investors continue to demonstrate in the sector.
Digital health funding in Q3 surpassed the record-setting second quarter this year and totaled $9.4 billion, the venture capital firm Rock Health reports. The sector's influx of capital is being fueled in large part by rising consumer demand for access to remote care and health care providers' ability to meet consumer expectations.
Analysts believe that this likely will drive a long-term shift in health care delivery, with a greater percentage of care being delivered virtually. Behavioral health, in particular, has seen a large increase in deals this year, according to CB Insights, as patients with conditions like depression and anxiety increasingly turn to digital services during the pandemic. Disruptors are also responding with more differentiated services and platforms focused on psychotherapy and other psychiatric services.