Americans saying Democratic presidential candidate Joe Biden is mentally fit and capable of leading the country outnumber those saying President Donald Trump is, judging by a new poll, despite the Republican president's continued attacks on Biden's mental fitness.
In the poll, conducted by Morning Consult, 54 percent of Americans said that Biden is capable of leading the country, while 52 percent said he is mentally fit.
In comparison, 43 percent said that Trump is capable of leading the country and 49 percent said he is mentally fit.
The Morning Consult poll surveyed 1,991 registered voters from September 25 to September 27 and has a margin of error of plus or minus 2 percentage points.
Newsweek subscription offers >
The findings come amid Trump's continued attacks on Biden's mental fitness ahead of the first presidential debate on Tuesday night and the November election.
In July, Trump's campaign released a series of attack ads against the former vice president, with titles including, "Joe Biden is clearly diminished," "Joe Biden is slipping" and "Do you think Joe Biden has the mental fortitude to be president?"
Trump's attacks on Biden's mental capacity have continued over the past few months, and while speaking to supporters in Pittsburgh this month, he said that Biden "doesn't have a clue"
"He doesn't know where the hell he is," Trump said. "This guy doesn't know he's alive."
Newsweek subscription offers >
During another campaign rally in Pennsylvania, Trump said that Biden is "a dumb guy. Always known as a dumb guy," but added that he looked forward to facing off against him in the first debate.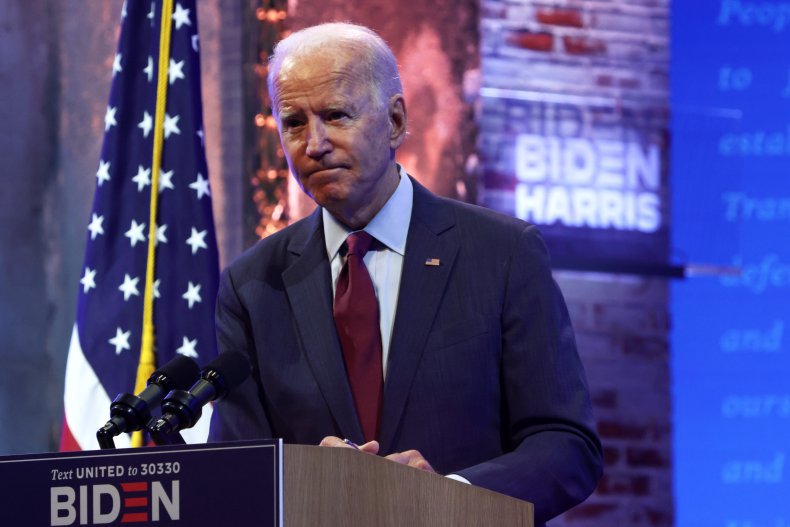 Earlier in September, Trump posted a tweet that read, "Great! Biden is finally being forced out of his basement. Now you'll be able to see what is going on 'up there'."
Trump also recently demanded that Biden take a drug test prior to the first debate, as he has continued to suggest that the former vice president is using performance-enhancing drugs.
In response, Biden's deputy campaign manager Kate Bedingfield issued a statement to Politico stating that "Vice President Biden intends to deliver his debate answers in words. If the president thinks his best case is made in urine he can have at it."
"We'd expect nothing less from Donald Trump, who pissed away the chance to protect the lives of 200K Americans when he didn't make a plan to stop COVID-19," the statement added.
In the Morning Consult poll, 57 percent of respondents said that Trump is in good health, compared to 46 percent who said the same of Biden.
Newsweek reached out to the Trump and Biden campaigns for comment but did not receive a response in time for publication.