In yet another trial of cell therapy for heart failure, this time in cancer survivors with anthracycline-induced cardiomyopathy (AIC), administration of allogeneic bone marrow-derived mesenchymal stromal cells (allo-MSCs) was shown to be safe and feasible.
The phase 1 SENECA trial was conducted at multiple sites under the auspices of the Cardiovascular Cell Therapy Research Network (CCTRN) and was published online September 30 in JACC CardioOncology.
"This is the first in-human clinical trial of cell therapy for patients with anthracycline-induced cardiomyopathy, a very serious disease with a very grim prognosis which is actually worse than ischemic cardiomyopathy, and for which treatment options are very limited at the moment," first author Roberto Bolli, MD, professor of medicine and director of the University of Louisville's Institute of Molecular Cardiology in Louisville, Kentucky, told theheart.org | Medscape Cardiology.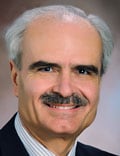 "The study was successful in showing that the treatment is safe, we did not have any serious adverse events, and that it is feasible in all patients," Bolli said. "We also wanted to see if there was a signal for efficacy, but I want to stress that this was a small study and was not powered or designed to establish efficacy," he added.
SENECA included 31 patients. Most (68%) were women; 32% were non-White; 14% Hispanic; and the mean age was 56.6 years (range 44.8 to 68.4 years). The most common cancer was breast cancer, in 48%, followed by non-Hodgkin lymphoma (19%), leukemia (10%), Hodgkin lymphoma (3%), and sarcomas (3%).
The average interval since cancer diagnosis was 17.7 ± 8.9 years, and since the last cancer treatment, it was 15.2 ± 8.4 years. The average time since AIC diagnosis was 7.5 ± 5.5 years.
After an open-label lead-in phase done in 6 volunteer patients established that the procedure was safe, the 31 patients were randomly assigned to receive either allo-MSCs (n = 14) or cell-free placebo (n = 17) administered via 20 transendocardial, electromechanically-guided injections.
Baseline variables were similar in both groups. The average left ventricular ejection fraction was 33 ± 5.3%, 84% of patients were in New York Heart Association functional class II, and the average NT-proBNP value was 1426 pg/mL. All were receiving maximally tolerated medical therapy for heart failure, and 58% had an implantable cardioverter-defibrillator or pacemaker.
The patients were followed up for 12 months. A total of 93 adverse events were reported in 27 study participants. Forty-two of these met the definition of serious adverse events; however, none of the 93 events were deemed to be related to treatment with allo-MSCs.
All patients randomly assigned to receive allo-MSCs were able to receive the protocol-specified dose of cells, thus proving feasibility.
Although SENECA was not designed to show efficacy, the researchers explored whether allo-MSCs produced a trend toward improved left ventricular function and functional status when compared with placebo. Variables that were evaluated included ventricular volumes, ejection fraction, and scar size as measured by MRI; 6-minute walking distance; NT-proBNP blood levels; and changes in quality of life as measured by the Minnesota Living with Heart Failure Questionnaire (MLHFQ).
With the exception of the MLHFQ, there were no statistically significant differences in any of the efficacy endpoints between the two groups. The MLHFQ score in the allo-MSCs group decreased from 47 at baseline to 21 at 12 months; in the placebo group, it decreased from 53 to 41 (95% CI, –30.49 to 4.84; P = .048).
Bone marrow mesenchymal stromal cells have been used before in several studies in heart failure, particularly in ischemic cardiomyopathy but also in non-ischemic cardiomyopathy, Bolli noted.
"That's why we tried it in AIC. Cardiac injection of MSCs has given some encouraging results in both ischemic and non-ischemic cardiomyopathy in phase 2 trials and right now there is a phase 3 trial going on using these cells in heart failure patients," he added. "Our study was a very rigorous study and it was done, I believe, according to the highest levels of rigor that you can possibly do. For a phase 1 trial, it is unusual to have this level of rigor."
Safe, Feasible, but Will it Work?
But whether SENECA safety and feasibility will translate into clinical benefit for patients with AIC remains to be seen.
After 7 years, the Cardiovascular Cell Therapy Research Network has exhausted its NIH funding, and a phase 2 trial is unlikely, unless a drug company steps up or other source of funding is secured, Bolli said.
Salim S. Hayek, MD, cardio-oncologist at the University of Michigan and medical director of the UM Frankel Cardiovascular Center Clinics in Ann Arbor, views the SENECA results with "cautious optimism."
"The improvement in the Minnesota Living with Heart Failure Quality of Life and 6-minute walking scores are very flaky measures; someone just maybe walked 2 or 3 seconds faster than before, so I would not put any stock in these secondary measures," Hayek told theheart.org | Medscape Cardiology. "What this paper shows is that the therapy is safe and it's doable, at least in this small number of patients. But beyond that, there is truly nothing else that we can conclude."
Stem cell therapy has now been studied now for over 15 years, but investigators still have not demonstrated significant improvement in outcomes with stem cell therapies, Hayek said. "Here again, specifically in anthracycline-induced cancer survivors, we have not seen dramatic results, despite the theoretical promise. In theory, stem cell therapy sounds good, but the issue is more complex.
"Essentially, if you are able to transform a stem cell in a dish to a cardiac cell, it doesn't mean that if you inject it, it is going to transform into a cardiac cell, so there's often a disconnect between the theoretical, the bench work, and the in vivo work," he said.
In the meantime, medical therapy for heart failure has progressed in the past 5 years, Hayek said.
"The SGLT2 inhibitors, Jardiance (empagliflozin), Farxiga (dapagliflozin) and the neprilysin inhibitor Entresto (sacubitril/valsartan), are showing promise. Do these specifically work on anthracycline-induced cardiotoxicity? We don't know because these drugs were not studied specifically in that group of patients," he said.
Doing such studies is difficult for a couple of reasons, Hayek said. For one thing, anthracycline-induced cardiomyopathy is not all that common.
"We give the impression that it is common, but it's actually not. And it's even less common now because anthracycline use has decreased with all the new therapies out there," he said.
It is also very difficult to differentiate heart failure that is anthracycline-induced from other types of heart failure, Hayek said, and well-established heart failure regimens already exist.
"Since the heart failure regimens that are already out there are so well established, so well-studied, and with benefit, and there are drugs without significant harm, most [of which] are generic and cheap, I would argue, 'Why not just treat these patients with those drugs?' " Hayek concluded.
Bolli and Hayek have disclosed no relevant financial relationships. The study was funded by the National Institutes of Health.
Heart Failure Society of America (HFSA) Virtual Annual Scientific Meeting 2020.
J Am Coll Cardiol CardioOnc. Published online September 30, 2020. Full text
For more from theheart.org | Medscape Cardiology, join us on Twitter and Facebook