Health benefits are second only to employee compensation as the largest HR expense for most businesses. Not surprisingly, holding the line on costs is a leading concern for CFOs as inflation reaches the highest level in decades.
In a recent Mercer survey, more than half of CFOs ranked it among their top five concerns, and nearly two-thirds said costs need to be at or below the Consumer Price Index to be sustainable for their organization.
Related: CFOs now in command of health plan design
"As we enter the second quarter of 2022, the list of health care cost drivers is growing — higher utilization due to `catch-up' care, claims for long COVID, the introduction of new gene and cellular therapies, and the impact of avoided care are all exerting upward pressure on cost," according to the survey report. "Even more concerning, we're seeing the highest inflation we've experienced in 40 years in many sectors of the economy. While health benefit cost growth accelerated somewhat last year, the full impact of inflation in the health care sector has been dampened by provider contracts that lock in prices for multiple years. As those renew, we could see truly eye-popping price increases, along with greater volatility in claims."
Another complication is that CFOs must balance costs with employee retention during the Great Resignation. When asked which cost-management strategies should be emphasized, most CFOs were less supportive of plan design changes than of either provider network strategies or clinical management programs. Plan design changes generally shift costs to employees, creating a greater risk of dissatisfaction.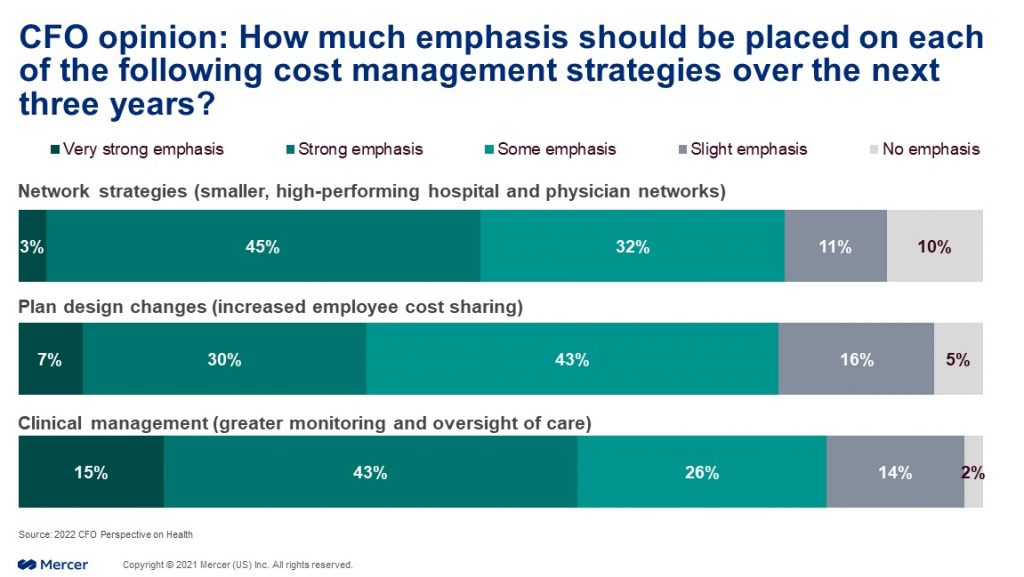 Given the tight labor market conditions, it's understandable that CFOs would prefer strategies that don't add to employees' financial burdens. However, more than six in 10 respondents say they are not confident that long-term cost-management strategies that require investment actually are saving money.
"Companies should consider a multipronged assessment strategy that considers the effectiveness of cost-management interventions across all interventions, at a segmented level and at a program level," the report said. "Given the rapid growth in adoption of these solutions, taking a portfolio approach to tracking these investments could prove useful."
More than half of CFOs surveyed are unaware of the coming volatility and uncertainty. More communication between HR and benefits professionals and the finance department will be a priority going forward, according to Mercer.
"Our advice is to play both defense and offense — preparing for greater volatility while taking actions to slow cost growth," the report concluded. "Of course, employers must balance the need to mitigate cost trends with already high levels of health-care costs, a tight labor market, accelerating inflation in other parts of the economy, the acceleration of new and very expensive gene therapies and more.
"However, not taking action is not a good option. Rigorous plan management will be essential to successfully navigating through the turbulent times ahead."
Read more: