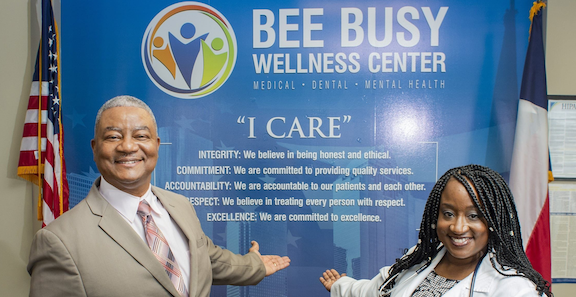 The National Association of Community Health Centers and The Siemens
Foundation Awards $1.5 in grants to Eight Community Health Centers
HOUSTON – Bee Busy Wellness Center, headquartered in Bray Oaks with satellite clinics in West Houston, southwest Houston and Clear Lake, was selected by the Siemens Foundation to address the needs of the medically underserved, underrepresented and uninsured in its Houston service areas.
The Siemens Foundation today announced it is providing $1.5 million in grants to eight community health centers across the United States to help in the COVID-19 crisis recovery and address racial disparities in accessing quality, affordable healthcare.
According to the Centers for Disease Control and Prevention, severe illness and death rates are higher for minority populations during public health emergencies, including the current pandemic. As of early May, Black people comprised 28 percent of COVID-19 cases in the United States and accounted for more than 18 percent of COVID-19 deaths, despite the demographic group representing only 13 percent of the U.S. population.
"Six months into the pandemic, COVID-19 continues to disproportionately affect people of color, particularly Black people," said David Etzwiler, CEO, Siemens Foundation. "Our commitment to eliminating health, education, and social justice disparities experienced by Black people is stronger than ever."
Community health centers are the nation's largest primary care provider for the medically underserved and uninsured, reaching 29 million of those most in-need. As a result of COVID-19, these health centers face a shortage of funding to stay operational and maintain a sufficient workforce, further crippling their ability to provide affordable healthcare at a critical time.
Page 1 of 3Personal protective equipment costs remain high, and for many small clinics, the price of providing masks, gloves and face shields for staff can become a burden. Doctors are also forced to provide tele-health to safely see their patients, software that can quickly become pricey. And like larger hospitals, clinicians are worried that their patients with chronic health concerns such as diabetes and asthma are not coming in for visits.
WHO'S VULNERABLE: Essential workers, missed messages: COVID is raging through Houston's Hispanic communities
"Those issues don't go away with COVID-19," Etzwiler said. "They only get worse."
Not only does that mean reduced patient volumes and revenue, it also means medical care gets more expensive the longer patients wait to care for their health issues. The clinics were chosen because their patient population is primarily people of color. Positive coronavirus cases have proliferated in Harris County neighborhoods that are home to a large portion of Black and Hispanic people.
Black people in Harris County make up 25 percent of the COVID-19 hospitalizations despite making up just 18 percent of the population, while Hispanic people account for more than 50 percent of hospitalizations despite being just 44 percent of the county surrounding Houston, according to county data.
About the Siemens Foundation
The Siemens Foundation has invested more than $122 million in the United States to advance workforce development and education initiatives in science, technology, engineering and math.
Our mission is inspired by the culture of innovation, research and continuous learning that is the hallmark of Siemens' companies. Together, the programs at the Siemens Foundation are narrowing the opportunity gap for young people in the U.S. in STEM careers and igniting and sustaining today's STEM workforce and tomorrow's scientists and engineers.
About Bee Busy Wellness Center:
Bee Busy Wellness Center (BBWC) is a 501 (c)(3) non-profit organization founded over a decade ago.
BBWC offers high-quality, affordable medical, dental and mental health services to individuals and families throughout the Houston area. BBWC is nationally accredited by The  Page 2 of 3Joint Commissions, is Certified as a Primary Care Medical Home (PCMH), is recognized as a Federally Qualified Health Center (FQHC) and is deemed as a Federal Tort Claims Act (FTCA) Agency.
We accept most major insurances and have payment plans and a sliding fee scale for those who qualify. Call for an appointment today: 713-771-2292.
Media Contact
Company Name: Pagegirl101 Solutions, LLC
Contact Person: Lynn Page
Email: Send Email
Phone: 713-771-2292
Country: United States
Website: www.pagegirl101.com/index.html
Press Release Distributed by ABNewswire.com
To view the original version on ABNewswire visit: Bee Busy Wellness Center Selected to Address Racial Inequities in COVID-19 Response Efforts