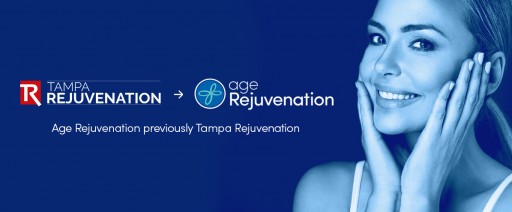 TAMPA, Fla. – October 12, 2020 – (Newswire.com)

​​Tampa Rejuvenation eagerly announces that it is rebranding to Age Rejuvenation and plans to expand beyond the Tampa Bay area.
Known for its high-quality regenerative medicine services, Age Rejuvenation is also pleased to announce a new partnership with Bella Aesthetics. The new identity and partnership leverages the company's mission to revolutionize health and wellness, while also maintaining a focus on the changing needs of its clients.
"The world is evolving and so is our brand," states Brett Markowitz, the founder and CEO of Age Rejuvenation.
"Our mission, to maximize the health and wellness potential of each individual patient, will always remain at our core. But, we are excited to increase our footprint nationwide to spread awareness of how transformative regenerative medicine can be in bringing wellness and happiness to patients."
Same Medical Staff, New Aesthetic Partners in Tampa Bay
Age Rejuvenation will provide the same revolutionary treatments and beloved staff as it did before, but with the added bonus of age-defying Bella Aesthetics services.
Dr. Suarez, the founder of Bella Aesthetics, boasts an undisputed reputation as one of Florida's leading med spa professionals with over 20 years of experience. All of her practitioners are certified through her own aesthetics academy with the mission of empowering both men and women to prioritize and celebrate self-care.
New Locations in Tampa Bay
In addition to our Brandon and South Tampa locations, Age Rejuvenation clinics will now be available in:
Age Rejuvenation Wesley Chapel
1821 Bruce B Downs Blvd, Suite 114
Wesley Chapel, FL 33544
Age Rejuvenation Westchase
10116 Montague St, Suite 8
Westchase, FL 33626
Bella Aesthetics treatments will also be available at all four of our locations.
What You Can Expect at Age Rejuvenation
Age Rejuvenation patients can expect to be greeted by friendly staff, professional medical providers, and an experienced patient care team. Each patient will receive a personalized medical program that is tailored to fit their individual health goals.
AboutAge Rejuvenation: Based in Tampa, Florida, Age Rejuvenation offers multiple state-of-the-art and FDA-approved health and wellness programs across the nation. Founded by CEO Brett Markowitz, the Age Rejuvenation team and health care professionals specialize in regenerative medicine, including hormone replacement therapy, aesthetics, nutrition, and weight loss.
Related Links
Our new website
Press Release Service
by
Newswire.com
Original Source:

Age Rejuvenation, Formerly Tampa Rejuvenation, Expands Nationwide and Partners With Bella Aesthetics